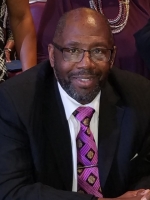 Samuel M. Wright, Jr., Th.D.
Rev. Dr. Samuel M. Wright, Jr., the eldest of five children, was raised in Springfield, N.J. His Christian experience began at nine years old.
In preparation for ministry service, Rev. Dr. Wright received a BA and MA in Theology and a D.Th. from North Carolina College of Theology,
Wilmington, NC in 2014.
Rev. Dr. Wright was ordained to the diaconate ministry in 1980. He was licensed to preach in 1991 and ordained for pulpit ministry in 1995.
Rev. Dr. Wright was called to serve as pastor of the Union Chapel Church, Union, NJ in October 2000. During his service he has worked to establish several ministries serving men, women, young adults, children, new believers and couples.
Pastor Wright is an astute pastor/teacher, preacher, praise leader and musician. He serves as a conference and motivational speaker. Pastor Wright is a member of:* The American Association of Christian Counselors
 Black African American Counselors
The United Clergy of Vauxhall, N.J. and vicinity
Chairman, Union Township Human Relations Commission
 Member of District Union #1 Central Jersey Pastoral Alliance and Church Fellowship
Pastor Wright has been married to his ministry partner, Patricia F. Wright since 2004. God has blessed them with five children; Phillip (LaTisha), Stephen (Vicki), Jessica, Fernon (Rashaun), Jennifer and five grandchildren; Aniya, Cayla, Lucas, Golden, Devyn and Myles.
Pastor Wright is passionate about the need for the church to be the church as God has called her to be, according to (Matthew 28:19, 20 and Acts 1:8). He firmly relies on (Zechariah 4:6b)…not by might, nor by power, but by my Spirit says the Lord of Host.