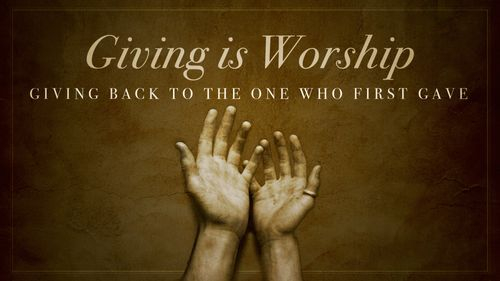 2 Corinthians 9:6-8
Remember this: Whoever sows sparingly will also reap sparingly, and whoever sows generously will also reap generously. Each of you should give what you have decided in your heart to give, not reluctantly or under compulsion, for God loves a cheerful giver
Malachi 3:10-12
"Bring the whole tithe into the storehouse, that there may be food in my house. Test me in this," says the Lord Almighty, "and see if I will not throw open the floodgates of heaven and pour out so much blessing that there will not be room enough to store it. I will prevent pests from devouring your crops, and the vines in your fields will not drop their fruit before it is ripe," says the Lord Almighty. "Then all the nations will call you blessed, for yours will be a delightful land," says the Lord Almighty.
Matthew 10:8
… Freely you have received; freely give.
1 Timothy 6:17-19
Command those who are rich in this present world not to be arrogant nor to put their hope in wealth, which is so uncertain, but to put their hope in God, who richly provides us with everything for our enjoyment. Command them to do good, to be rich in good deeds, and to be generous and willing to share. In this way they will lay up treasure for themselves as a firm foundation for the coming age, so that they may take hold of the life that is truly life.
2 Corinthians 9:10-15
Now he who supplies seed to the sower and bread for food will also supply and increase your store of seed and will enlarge the harvest of your righteousness. You will be enriched in every way so that you can be generous on every occasion, and through us your generosity will result in thanksgiving to God.  This service that you perform is not only supplying the needs of the Lord's people but is also overflowing in many expressions of thanks to God.  Because of the service by which you have proved yourselves, others will praise God for the obedience that accompanies your confession of the gospel of Christ, and for your generosity in sharing with them and with everyone else. And in their prayers for you their hearts will go out to you, because of the surpassing grace God has given you. Thanks be to God for his indescribable gift!
Proverbs 11:24
One person gives freely, yet gains even more; another withholds unduly, but comes to poverty.
Proverbs 11:25
A generous person will prosper; whoever refreshes others will be refreshed.